Report on 2010 Denver Event
Well, 2010 was supposed to be a kite fly, not a roller coaster ride! But in the end, the 2010 event in Denver was a great success, in large part, thanks to all of our kitefliers, parade participants, volunteers and sponsors. The event itself went off pretty much as planned with the exception of one little bug-a-boo with which all OSOW event planners are too familiar – the weather. At least 90 uninterrupted days of sunshine, warm temperatures and wind came to an unexpected end on the second Sunday of October, 10-10-10. Out of nowhere, forecast by the NOAA only after the fact, came a light, intermittent, drizzlely rain, starting about 8 a.m. The only thing this miserable weather affected was the public turnout, as the OSOW participants, kitefliers and die hards had, what everyone there concurred, was the best event ever.
Regarding publicity, we did get many articles in a large number of local blogspots, newpapers and publications and a front page photo, a story in the Washington Park Profile, one of Denver's best and most prestigious neighborhood monthlies, . In addition, we did get an article in the entertainment section, center page 3 and a mention in the Bill Husted column in the Denver Post on Saturday, October 9. We estimate attendance was diminished by the rain by about 75%. As it was, we had about 1000 people, mostly families with children.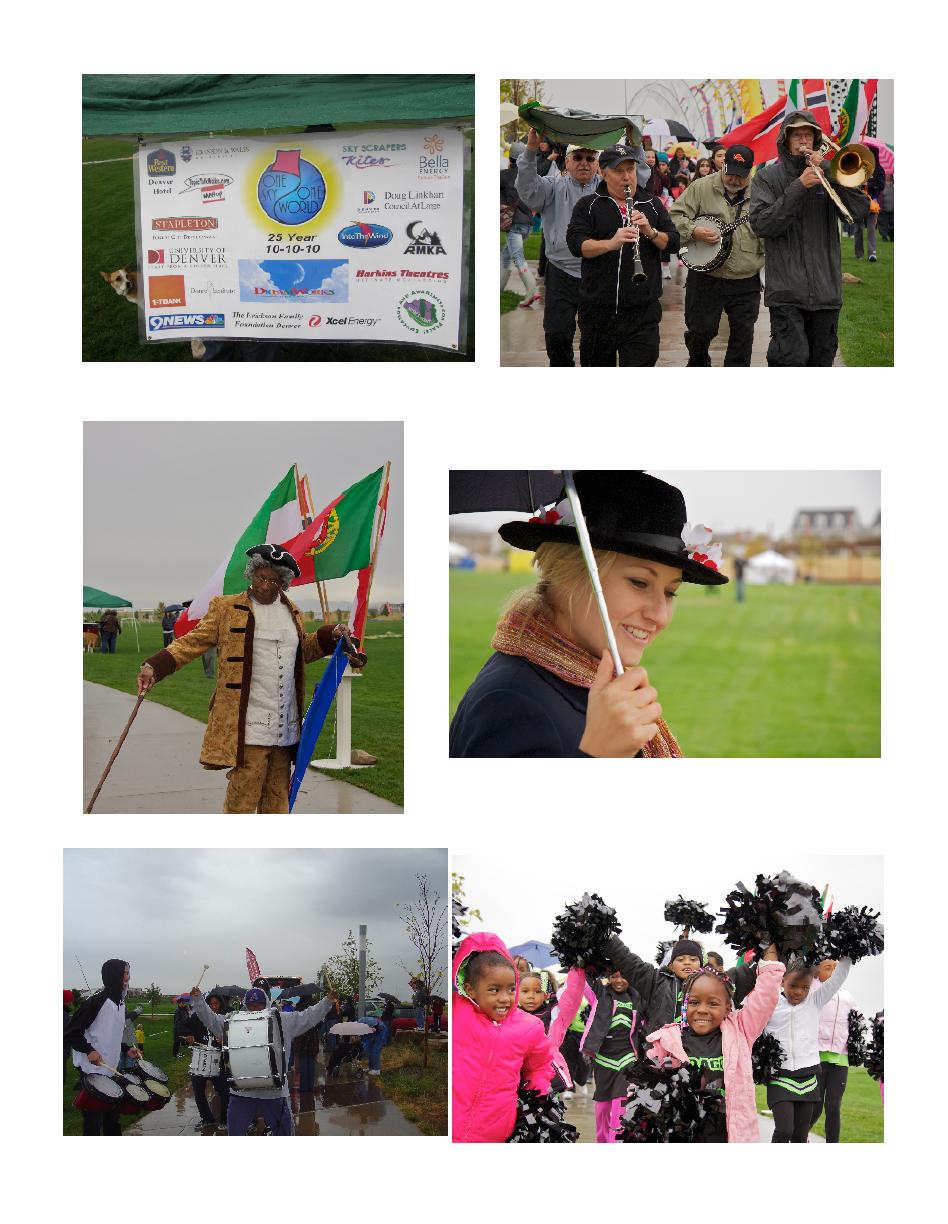 The Chlidren and Pet Parade for Peace included a Dixieland Jazz Band, Ben Franklin, Mary Poppins, a High School Drum Corps, Montbello grade school cheerleaders, the Dance Institute children's dance troupe, a big wheel bike, pets and a covered wagon pulled by Shelties and a Giant Cupcake Float that we constructed (the professional float guy got tied up with haunted houses). And, of course, no peace parade would be complete without the Dali Llamas! A dog named Coquetta has a torn ACL on her back left leg and she and her mom, Cynthia Foster, got a ride from Colorado Rickshaws. We raised money to help Cynthia, who is known as being a godmother to hundreds of dogs aroud the City, pay for the nearly $4,000 operation it will take to get Coquetta walking again.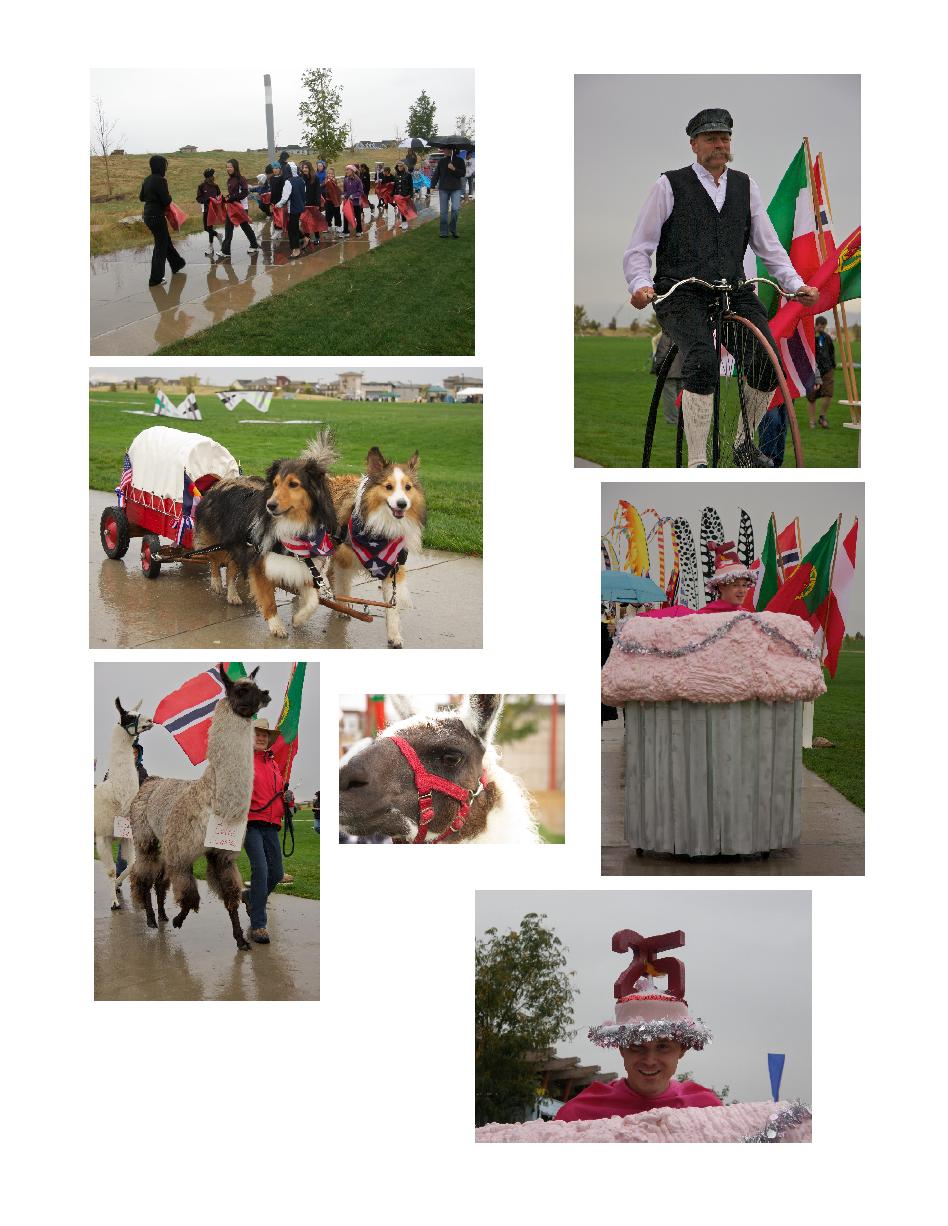 The rainy chilly day seemed to be only an excuse for creating heavenly peace-filled dreams for years to come. Ben Franklin visited the "Skype, Kite and Recite" area and added some of his quotations in the "Economics of Peace" book - "Expectations are more important than Desires". Skype contacts were made with some success to Montreal, Canada and Columbia, Missouri. Recorded Skype videos related to One Sky One World day and can be seen online here.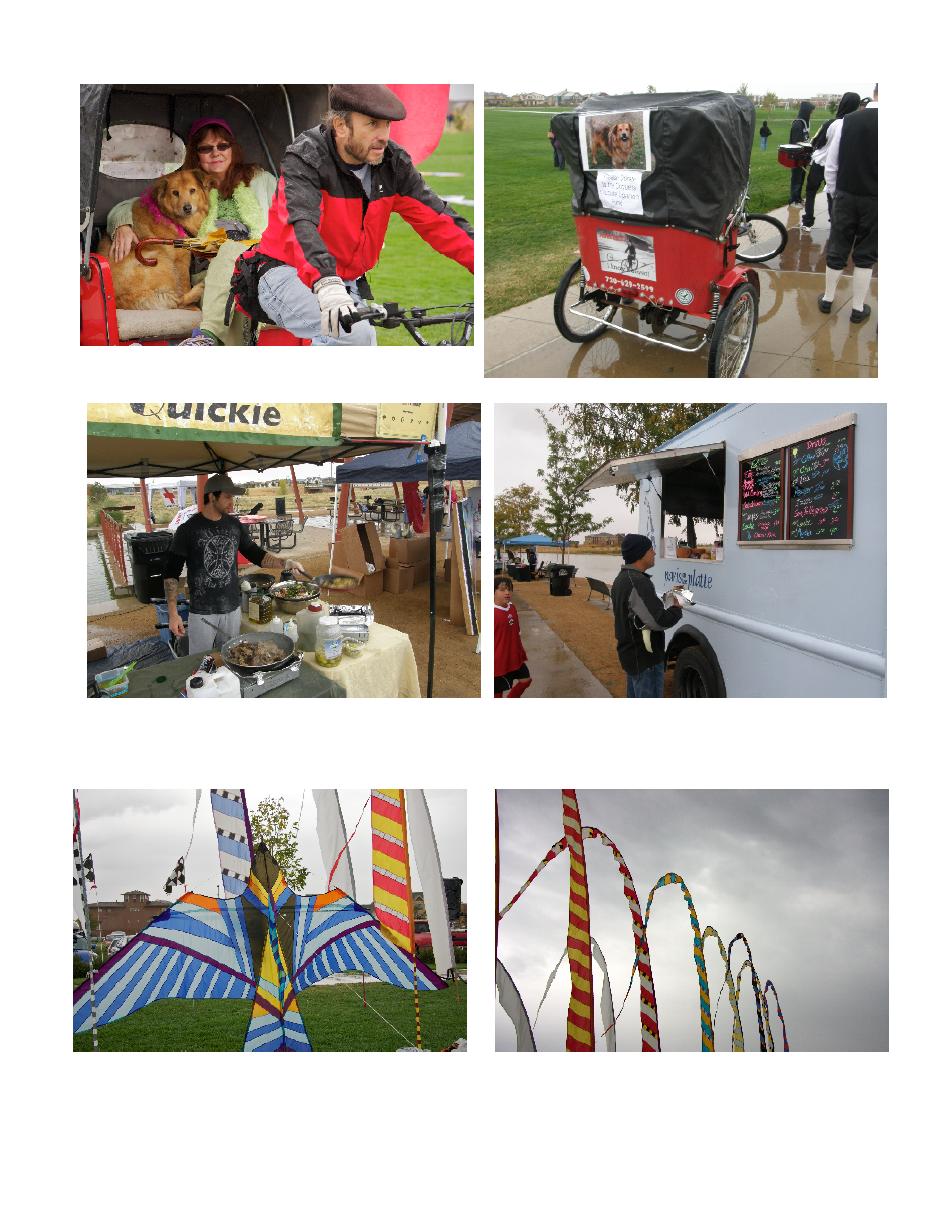 Not only did we feature live musical entertainment by the Joe Bonner Jazz Quintet and Latin Soul on the Bella Energy stage, but the kitemaking tables were busy with almost 100 kids, making free kites. The Viking helments and tatoos from the animated feature film, "How to Train Your Dragon", provided by sponsor DreamWorks Pictures were all gone by noon and the Hiccup face photo panel had a steady stream of children's faces filling the hole.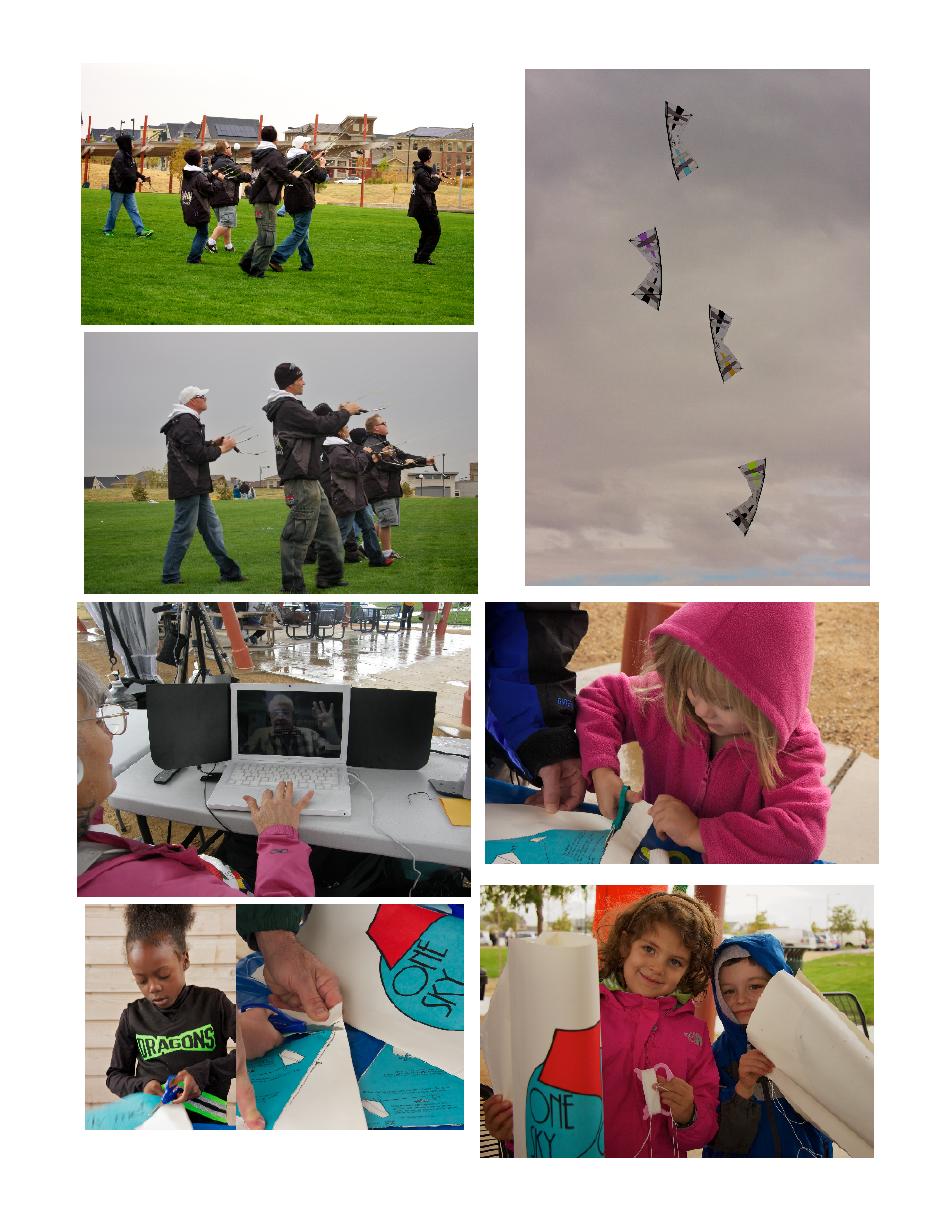 We featured approximately 10 vendors. Weather, although on and off again wet, did provide very nice winds most of the time and many kites took flight. Not surprisingly, the kites and banners of world renown Colorado kite artist George Peters were a focal point on the flying field. Large Kite Pilot, Alan Sparling came from Chicago to fly his 90 foot Octopus and Trilobite. Unfortunately, only the Trilobite took flight briefly before the moisture weighted it down. Highlighting the event was the world famous, iQuad Kite Team performing several times as awestruck attendees stood with mouths agape at the skill, precision and rhythm of their superbly choreographed programs.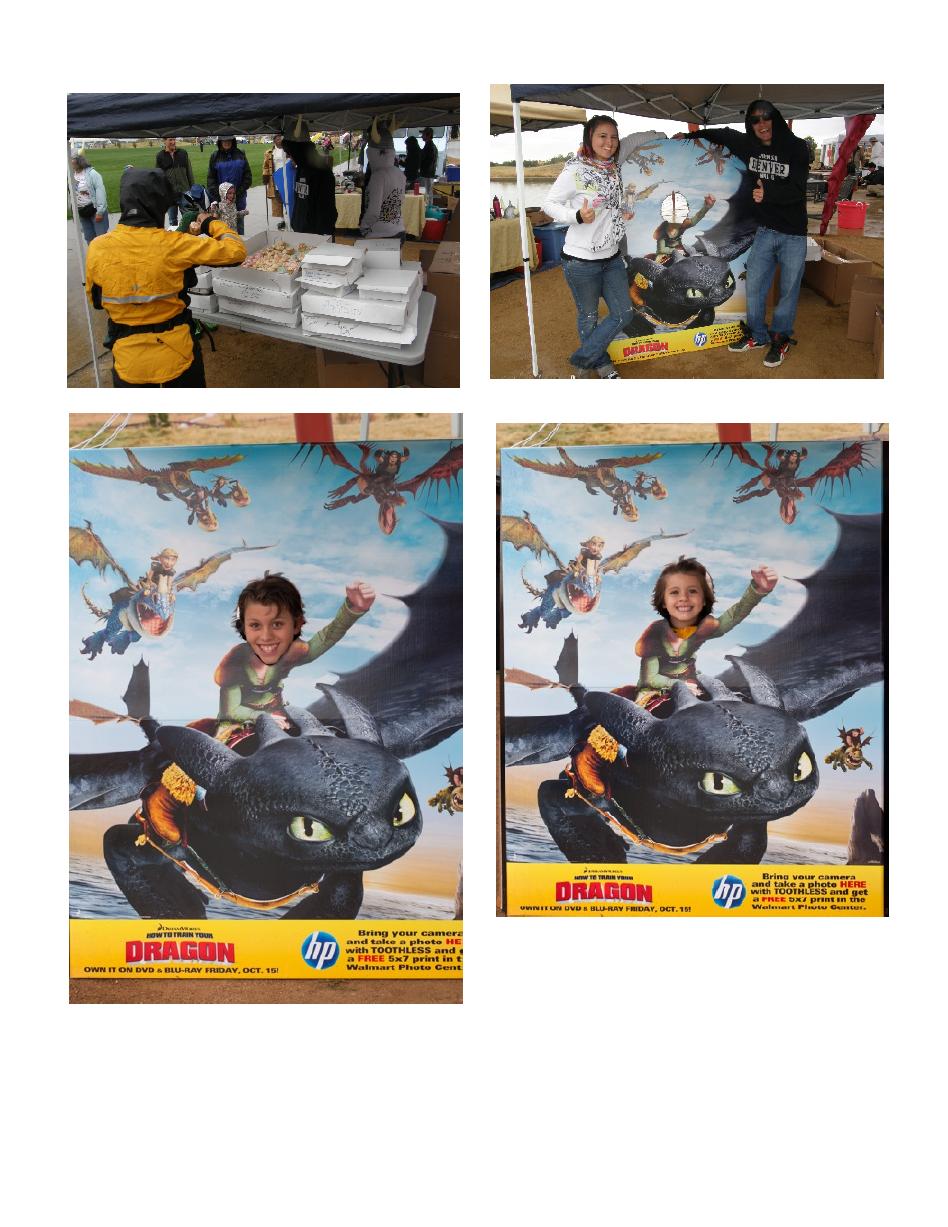 The following video was put together by Steve Lawrence, President of Stapleton United Neighbors.
Please also see more wonderful photos by Ben Hazlett and Jay Morse.